21 Mar
This is a Sponsored post written by me on behalf of Vectra flea & tick control for SocialSpark. All opinions are 100% mine.
We have been giving it a lot of thought lately.
Adding a new puppy to our home has been a discussion for about a year now.
We still have the feral cat that adopted us many years ago, and we thought when something happened to him, we would get a dog.
Thankfully, Rusty the cat is still around, and from his actions with the neighbor's dog that visits regularly, I don't think he would overly mind having a puppy around.
We had a large dog many years ago, but this time around a smaller one is in order.
A lot less dirt and work with a smaller dog is what us older folk need.
And then there is the business of the ticks and fleas.
I tell you, I haven't missed them all these years, and I know they are bound to be around with an indoor pet.
But there is a new way of controlling them that wasn't around when we had our first dog.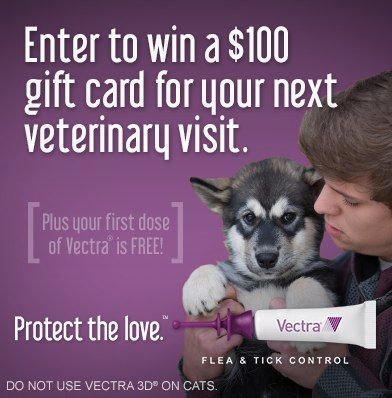 Once a month the dog is given a dose, and the Vectra treatment begins working in five minutes.
Not only does it repell and kill ticks and fleas, but the mosquitoes, sand flies, and mites are also affected by the treatment.
It even stays working after bathing and swimming.
And all of this is available through the dog's vet.
Check out Vectra's Protect the Love Facebook Sweepstakes for a chance to win $100 gift card to use at the vets. Be sure to "Like" them while you are there, and don't forget @VectraPet on Twitter!
After entering the sweepstakes, all entrants can get a free dose of Vectra flea & tick control with a coupon that they can use at the vets.
Sounds like taking care of a dog has gotten a bit easier these days and that's just what we need since we are not getting any younger!